Kids Unlimited
At Church Unlimited we believe in empowering the next generation and that every child has a God-designed identity and purpose. Our desire is to intentionally help our children to know their God-given identity and live for Him in all that they do. We do this through powerful praise and worship, engaging Biblical teaching, and exciting games and activities.
Kids Unlimited is broken into three age groups:
Adventurers – 18 months to Kindy
Explorers – Prep to Grade 3
For more information please contact charlotte.leembruggen@churchunlimited.com.au
Creative Unlimited
God is the ultimate UNLIMITED Creator. His Word tells us that we are made in His image and He invites us to explore the creativity that he has put within us. Our Worship Unlimited meets fortnightly on Wednesday nights from 7 PM to help you discover this creativity, develop our creative gifts and build amazing friendships.
For more information regarding Worship Unlimited, please don't hesitate to email Ray Bartram at ray.bartram@churchunlimited.com.au
Youth Unlimited
Youth Unlimited is dedicated to helping teenagers engage Jesus in a personal and real way.
We do this in 2 key ways:
• Friday night Youth Service – Every Friday we have a youth meeting that encourages our youth to engage in passionate worship, the Bible, and a whole bunch of fun! 7-9PM at 35 Flinders Pde.
• Surge Youth Camp – Every June / July school holidays Youth Unlimited gathers with other youth groups from across the Moreton Region for a combined youth camp. This is a powerful time of encountering the presence of God, making great friends, and having a ton of fun!
For more information please contact nate.malia@churchunlimited.com.au
Sunday Service Teams
We believe that every person that God brings to Church Unlimited is a guest that we have the privilege of hosting in His house.  As a result, we want to host those guests with the very highest of standards.  Our Host Unlimited team is full of people who work hard each Sunday to ensure all of our visitors enjoy and engage in our Church Unlimited services.
​For more information regarding Host Unlimited, please don't hesitate to email info@churchunlimited.com.au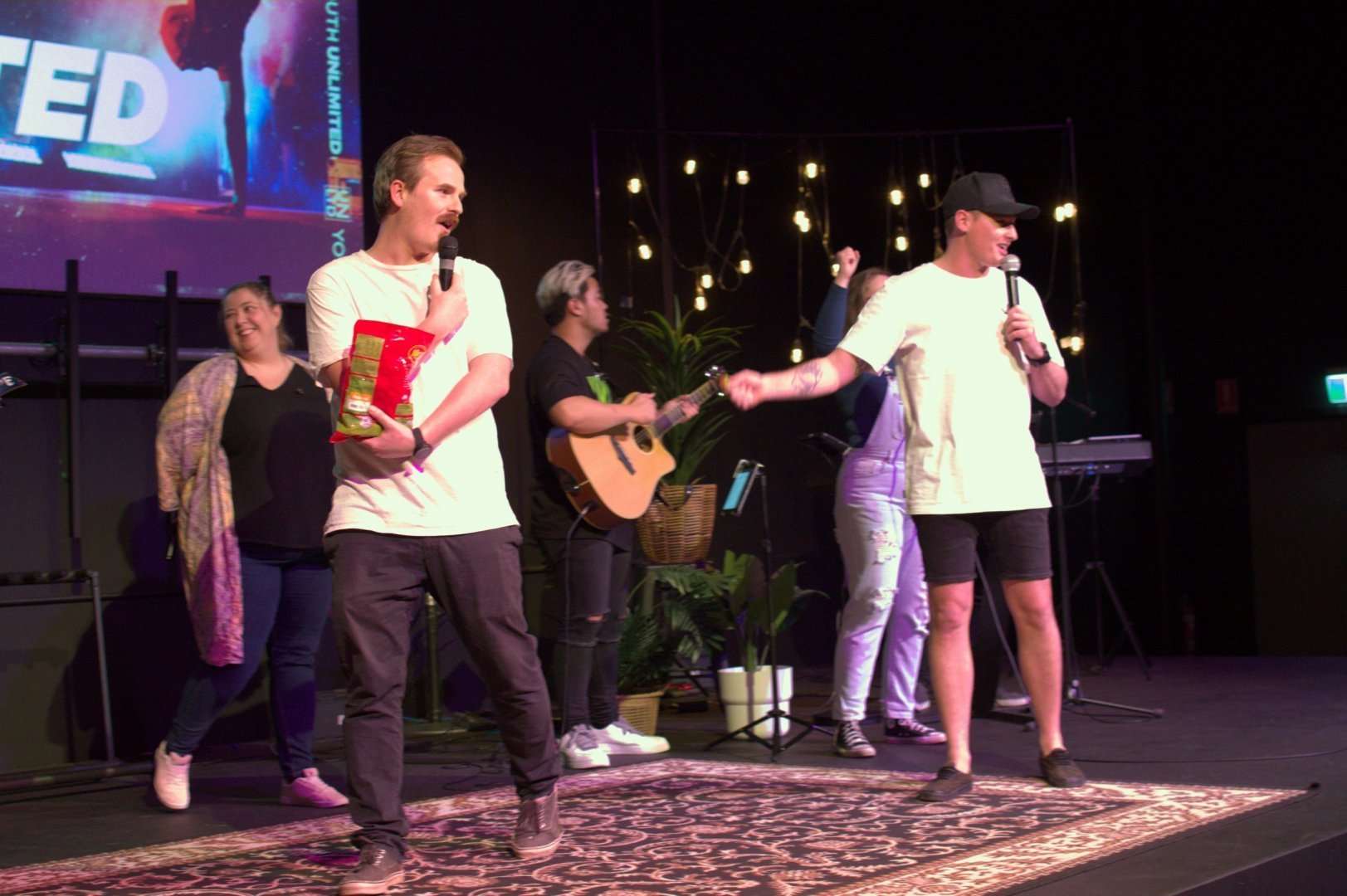 Crew Unlimited
Crew is the Young Adults ministry of CU. Crew is full of young ads from all different spheres of life with a passion to live for Jesus! This is outworked through amazing Sunday services, connect groups, social events, and Red Frogs University Outreach.
For more information please contact janna.casino@churchunlimited.com.au
Grow Groups
Scripture shows us that the Christian life is to be a life of "followship." This means we are to spend our lives in pursuit of following Jesus. Thinking the way He thinks. Talking the way He talks. Behaving the way He behaved. To be a Christian is to be a disciplined follower of Jesus.
At Church Unlimited we want to be intentional in becoming disciples of Jesus. One of the key ways we outwork this is through our Grow Groups.
To become a part of a Grow Group, fill out the form by following the link below.
Email us at info@churchunlimited.com.au for more information.